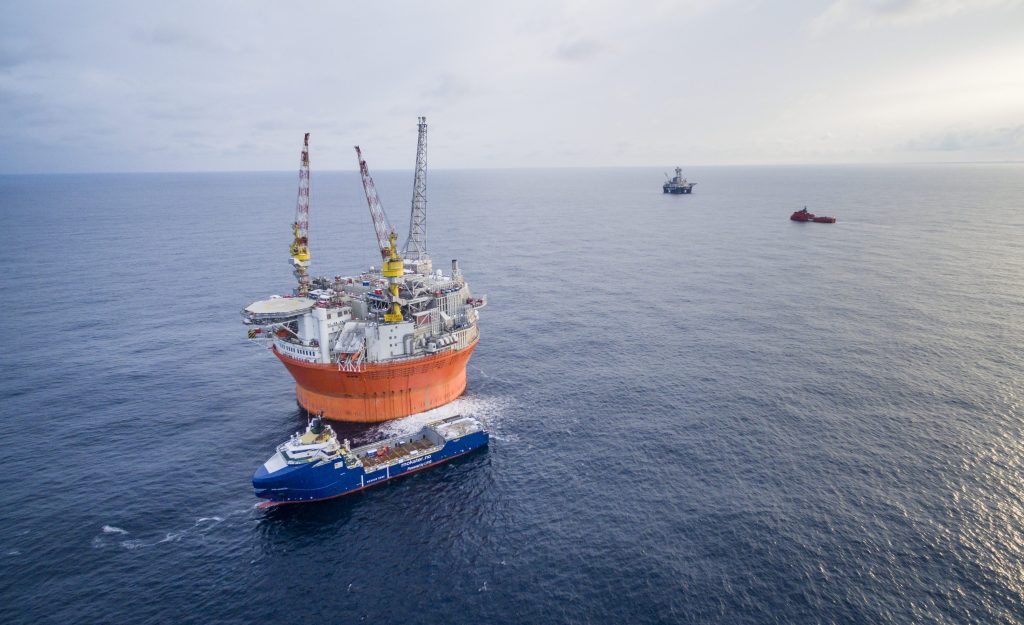 7 March 2019
Safer Barents Sea environment after Goliat network upgrade
Vår Energi AS has entered into an agreement with Telenor Maritime to equip the Goliat field in the Barents Sea with 2G and 4G networks, improving safety and emergency response capability in the region.
"We are delighted to conclude our efforts in securing this agreement which will enhance the network reliability on the Goliat field. Other offshore activities will benefit from improved safety and emergency response due to the mobile network coverage available for people at sea," says Asbjørn Skoge, Asset Manager Barents Sea in Vår Energi.
"Telenor Maritime already operates mobile 4G networks on the Norwegian continental shelf and is pleased to sign this agreement with Vår Energi. We are building on the experiences made from delivering tailor-made mobile solutions in the North Sea and the Norwegian Sea, as we expand our businesses into the arctic waters of the Barents Sea," says Lars Erik Lunøe, CEO in Telenor Maritime.
Installation of the equipment on the Goliat floating, production, storage and offloading (FPSO) unit will commence in the second quarter of 2019, with an expected completion third quarter same year. Additionally, the agreement includes supporting vessels to the Goliat license and other users in the area, within approximately 70 kilometres of the Goliat field.
"As operator of the Goliat field, we are dedicated to taking corporate social responsibility in regions where we operate. Major ripple effects in the northern region have taken place as an effect of the Goliat development, and we expect to retain substantial ripple effects due to ongoing operations and future maintenance activities. In this case, we are content with the mobile communications services creating a safer environment for people offshore, including the fishing fleet and growing tourism industry," Asbjørn Skoge adds.
"Mobile operators and technology have through time transformed how businesses operate. A state of the art high-speed 4G network will facilitate Vår Energi to carry out even more innovation and efficiency improvement on the Goliat field, benefitting from high-speed mobile coverage, with improved communications between offshore installation and supply vessel. Low latency, high capacity, stability and available wireless communication will promote the industry's opportunities for integrated operations," Lars Erik Lunøe continues.
In periods with production shut down such as turnarounds or other activities, the network may be impacted, but the objective is to keep the networks' uptime as high as possible.
About Vår Energi AS
Vår Energi AS is a new leading, independent E&P company on the Norwegian continental shelf (NCS) and the result of the merger of Point Resources AS and Eni Norge AS in late 2018. Vår Energi is jointly owned by Italy based energy company Eni (69.6 percent) and Norway based leading private equity investor HitecVision (30.4 percent). More information available on www.varenergi.no
Contact:
Andreas Wulff, communications and public relations manager, Vår Energi
M: +47 926 16 759
E: andreas.wulff@varenergi.no
About Telenor Maritime
Telenor Maritime is the mobile operator at sea, the marine communication specialist, providing global mobile coverage, Internet, and backhaul for the offshore and fishing industry, cruise ships, and ferries. Telenor Maritimes offices are located in Arendal, Stavanger, Bergen, Norway, and Stockholm, Sweden. Telenor Maritime is part of Telenor ASA, one of the world's major mobile operators. Through Telenor, we have access to a broad range of competence and resources to market, product, innovation and content development. Telenor Maritime has been leading the evolution of secure connectivity at sea since 2004, serving more than 100 ship owners, 25 million passengers and crew on board more than 400 vessels worldwide. For more information, please visit www.telenormaritime.com
Contact:
Lars Erik Lunøe, CEO, Telenor Maritime
E: Lars-Erik.Lunoe@telenor.com
M: +47 909 73 006