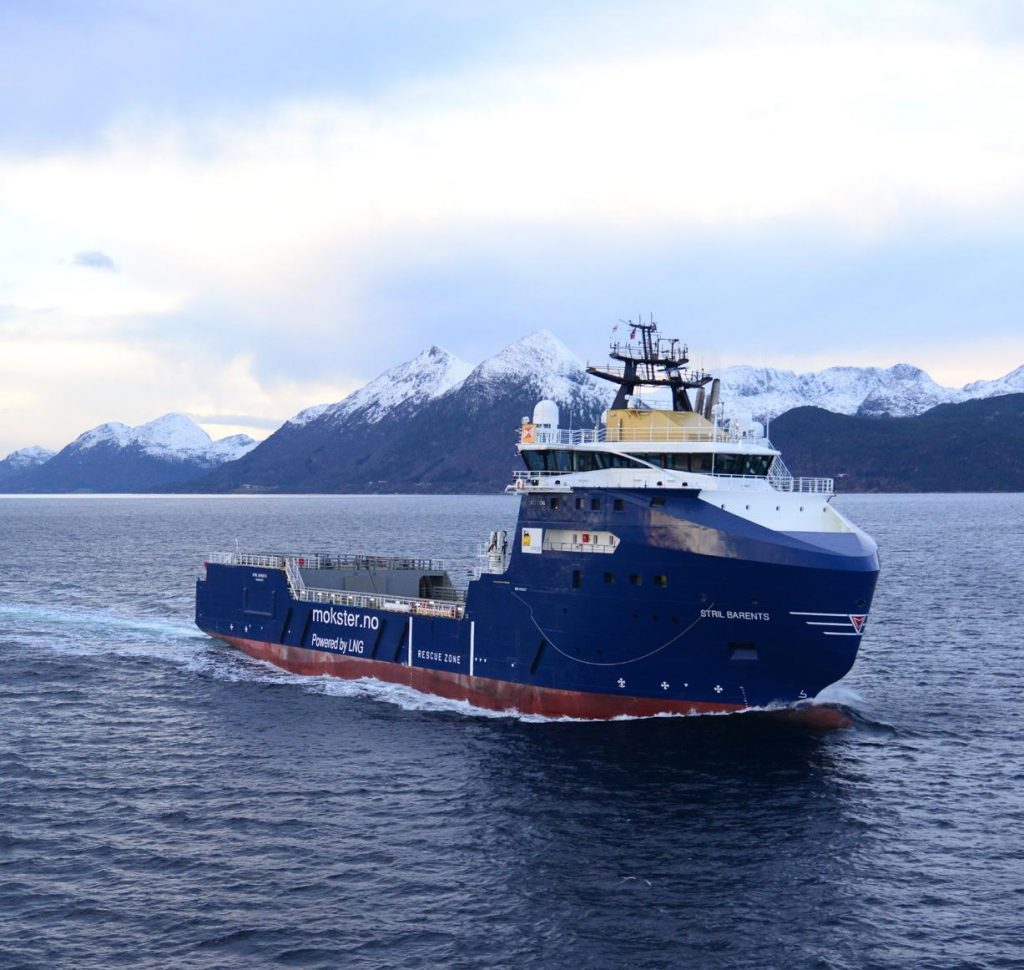 5 February 2015
New vessel strengthens oil spill preparedness at Goliat
Stril Barents, a state of the art supply and standby vessel is ready to start operations at the Goliat field in the Barents Sea. The vessel commissioned by Eni Norge will strengthen oil spill and search and rescue contingency operations at the field location. 
Goliat will enter into production this summer as the first oil field to come on stream in the Barents Sea. Eni Norge and Norwegian authorities have stipulated strict oil spill contingency requirements for Goliat.  
Double function
Stril Barents is designed and built to operate both as a supply and stand-by vessel at the Goliat location. Under normal circumstances the vessel will operate mainly as a supply vessel. It will also be able to replace Goliat's current standby vessel, Esvagt Aurora, and will provide the first response both in case of emergency life-saving intervention and oil spill situations.
This double function makes the vessel unique on the Norwegian shelf.
Tailored to Arctic operations
The vessel is specially adapted to the challenges presented by harsh Arctic weather conditions. It is equipped with heating cables to prevent icing, and most of its auxiliary equipment, including the lifeboats and life rafts, is built into the vessel in order to protect it from the Arctic elements. Separate hangars for oil spill contingency equipment, such as that used for the chemical dispersal of oils at the sea surface, have also been installed. This equipment is deployed from openings in the bow, and can be controlled remotely from the bridge.  Mechanical oil spill contingency equipment can be deployed rapidly from its storage location in a hanger located in the vessel's stern.
Stril Barents is equipped with state-of-the art remote measurement equipment which enables it to identify and track oil on the sea surface, even in poor daylight conditions.
Built in Norway
Stril Barents is owned and will be operated by the Stavanger-based shipping company Simon Møkster Shipping. It was built at the Vard Aukra yard outside Molde. The vessel is under contract to Eni Norge for the next ten years, with options for contract extension.
Stril Barents will be named in Stavanger on 5 February by Gerd Kristiansen, President of the Norwegian Confederation of Trade Unions (LO).
For further information, please contact
Andreas Wulff, Director of External Communication and Public Relations, Eni Norge.
Mob.: +47 926 16 759.