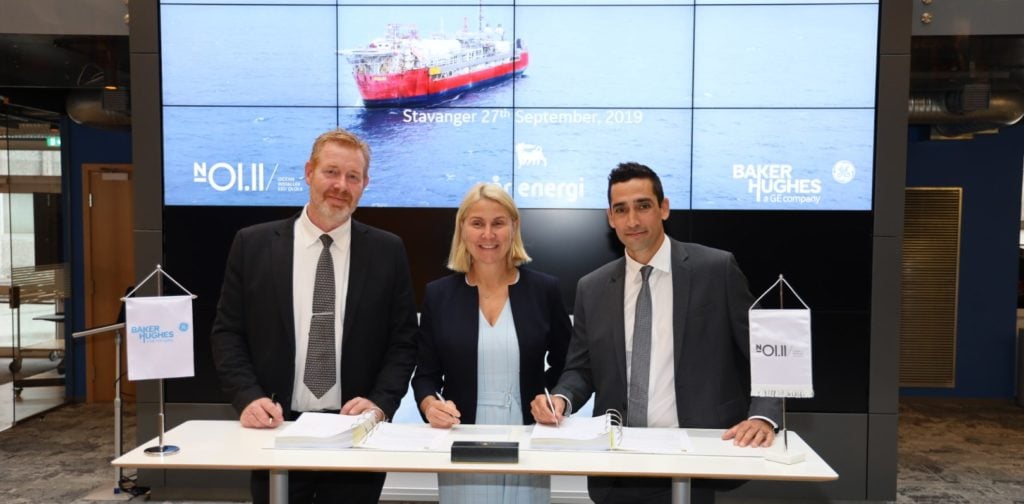 27 September 2019
Vår Energi awards Balder X subsea contract to industry consortium
Vår Energi AS has awarded a contract covering engineering, procurement, construction and instalment (EPCI) of subsea systems (SPS/SURF) for the Balder X project to a consortium of the companies Baker Hughes, a GE company (BHGE) and Ocean Installer AS.
This award is a key milestone in the ongoing Balder X Project, which includes the redevelopment of the Balder and Ringhorne field area in the North Sea. The Balder X Project will extend the life of the Jotun A FPSO towards 2045 through refurbishing it and relocating it to the Balder license PL 001, the first production license on the Norwegian continental shelf. If production proceeds according to the current estimates, the Balder X Project will give PL 001 a total lifespan of over 80 years.
– We are pleased to award this important contract to the BHGE and Ocean Installer consortium. It will provide new activity to the world-class oil service industry we have in the Stavanger region. Both consortium companies a have strong local presence, and large portions of the construction and engineering work will come from local suppliers, securing employment in the region, says Kristin Kragseth, CEO of Vår Energi.
Under the contract the consortium companies will engineer, procure, construct and install new subsea production systems (SPS), umbilicals, risers and flowlines to the Jotun A FPSO. BHGE and Ocean Installer will also carry out decommissioning and cleaning up the seabed by removing redundant subsea systems and equipment from the Jotun field.
Kevin Murphy, CEO, Ocean Installer said: "The Balder X project is the largest award in Ocean Installer's history, it doubles our order backlog and allows us to be part of Vår Energi's first major development in this region. We are proud to have been chosen for such a prestigious award and, together with BHGE, look forward to delivering Vår Energi a successful integrated project in the North Sea."
The redevelopment of the Vår Energi-operated Balder and Ringhorne fields entails major future project activities. This includes extending the lifetime of the Jotun A FPSO towards 2045,extending the life of the Balder FPSO towards 2030, drilling of 15 new production wells in the Balder field area and 11 new production wells in the Ringhorne field area. Vår Energi is also planning to execute several exploration drilling campaigns, in addition to the extensive production drilling program.
Tom Huuse, Director, Norway and Denmark, BHGE said: "We are pleased to have been selected by Vår Energi, alongside our partner Ocean Installer, for the development of the Balder X project. Through our Subsea Connect approach, leveraging early engagement with our customer, we were able to optimize the development cost of this significant award. BHGE will bring a deep sense of history and experience to the region while delivering challenging projects with field proven technology through local execution to support on time delivery."
Vår Energi has reserves and resources of more than 1 250 million barrels of oil equivalent (Mboe), and is expected to reach a daily production of 250 000 barrels of oil equivalent by 2023. This will require developing more than 500 million barrels of oil equivalent in over ten existing projects in Vår Energi's development portfolio on the Norwegian continental shelf. The Balder X Project is an important key in this growth plan.
About Vår Energi AS
Vår Energi AS is a leading and growing independent E&P company on the Norwegian continental shelf (NCS) and the result of the merger of Point Resources AS and Eni Norge AS in late 2018. Vår Energi is jointly owned by Italy based energy company Eni (69.6 %) and Norway based leading private equity investor HitecVision (30.4 %).
Contact:
Andreas Wulff, communications and public relations manager in Vår Energi
Mobile: +47 926 16 759
Email: andreas.wulff@varenergi.no