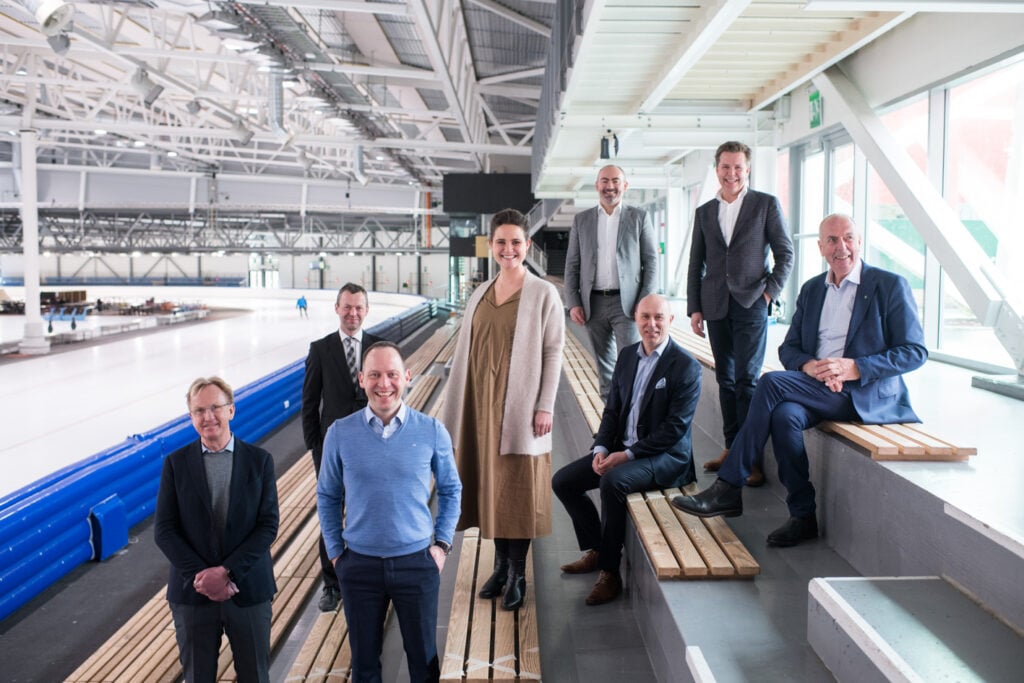 4 February 2022
Vår Energi and Folkehallene enter into long-term cooperation
Vår Energi and Folkehallene join forces on a major investment to strengthen activities for children and young people in the Stavanger region. The ambition is improved public health, social development and coping skills and reduced exclusion.
Folkehallene (The People's Arenas) operate five indoor sport arenas in the Stavanger region, owned by the municipalities of Stavanger, Sandnes, Sola and Randaberg. The arenas have almost 500,000 visitors per year and are important arenas for physical activity and social interaction – especially for children and young people. In addition, the arenas host national and international sporting events attracting some of the world's finest athletes, being an inspiration to both a national and international audience.
This week Vår Energi and Folkehallene sign an agreement which, among other things, encompass the development of free activities for children and young people, year-round. As part of the cooperation agreement, Folkehallene will receive NOK 10 million per year from Vår Energi. In addition, Vår Energi Arena will be included in the brand name of the five arenas. The agreement runs for 10 years, with possibility of extension.
Folkehallene is a fantastic concept, and the focus on children and young people fits perfectly with our vision of making a better future. We want to create activity and ripple effects in the local communities where we are present. Now we are very humble and happy to be allowed to join Folkehallene on their way forward. We will be an active partner and use our role and capacity to create new opportunities and contribute to better public health, says CEO of Vår Energi, Torger Rød.
The General Manager of Folkehallene IKS, Karton Nilsen is grateful:
This is a day of joy and a milestone in the history of Folkehallene. The agreement with Vår Energi will make a big difference in our endeavor of building a better future for the region's children and young people. The collaboration agreement will strengthen our economy and thus provide predictability for the long-term commitment to physical activity and social interaction for children and young people. We also believe this can contribute to large recruitment to the region's sports teams.
Among other things, the agreement allows Folkehallene to establish a year-round free of charge training offer and activities for all children and young people under 16 years of age. The program will include regular weekly activities in all facilities, so that those who want can find their "activity". For some, this may be the path into organized sports.
The agreement also entails a strengthening of "Summer in the Folkehallene" – where all the venues are opened for primary school pupils during the summer holidays. It offers a wide range of activities, from beach volleyball, skating, climbing and mini golf to sewing, dancing and e-sports.
In addition to the offer of free sports activities, a further program is established for children and young people who have not found themselves comfortable in organized sports. The goal is to create a good option for those who are at risk or have already become vulnerable to various societal or economical forms of exclusion.
Together with Folkehallene, we will set up activities aimed to secure inclusion. Social exclusion is a major but under-communicated societal problem, and we hope that free access to the halls can make a positive contribution to the work of combating this, says Rød.
As part of the cooperation agreement, Vår Energi is given naming rights to the five existing facilities under Folkehallene IKS. The new names will be:
Vår Energi Arena Sørmarka
Vår Energi Arena Randaberg
Vår Energi Arena Forus
Vår Energi Arena Sandneshallen
Vår Energi Arena Sola
Personnel will be allocated from both Vår Energi and Folkehallene IKS to drive the development and focus on public health in the future. In addition, a research project will be launched to measure the socio-economic effect of the collaboration.