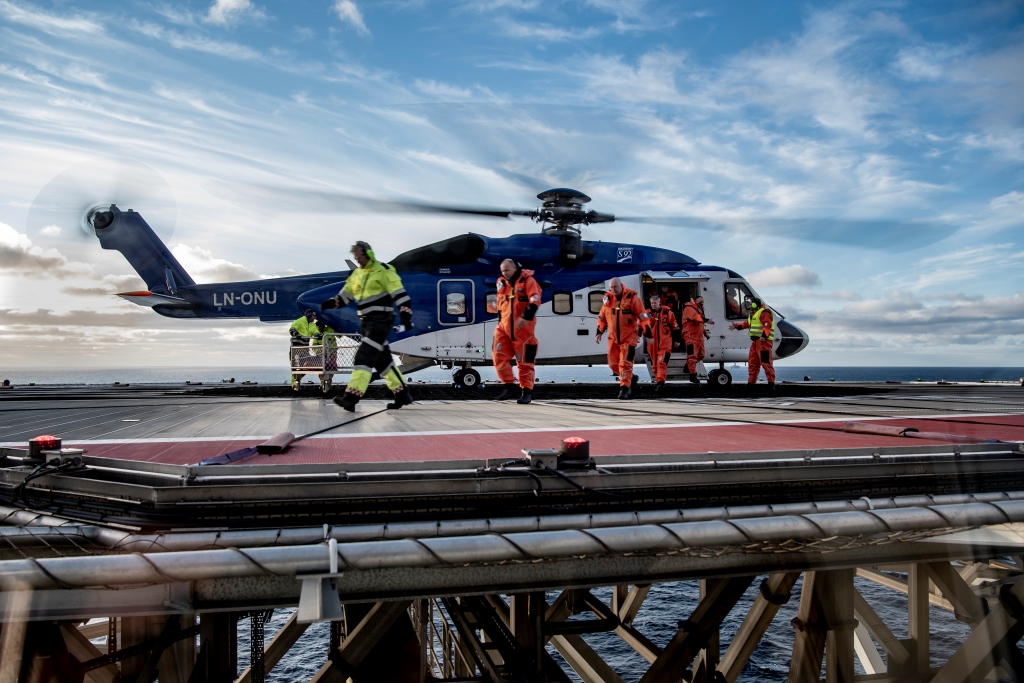 17 January 2022
Vår Energi and Equinor cooperating on North Sea logistics
Vår Energi and Equinor recently commenced a five-year helicopter-sharing agreement in the North Sea to reduce costs and environmental footprint of crew transport.   
The agreement for assigning helicopters was effective from 1 January 2022. It follows an earlier helicopter-sharing initiative between Vår Energi and Equinor in the Barents Sea and reflects the strong established cooperation between two leading oil and gas companies on the Norwegian Continental Shelf.   
"Vår Energi aims to be an active and preferred partner," says Vår Energi CEO, Torger Rød. 

"This includes capturing opportunities for sharing and collaboration to deliver more efficient operations and to reduce greenhouse gas emissions for long-term sustainable production of oil and gas from the Norwegian shelf".  
Vår Energi operates 12 regular North Sea flights per week with an average of 180 passengers in total. The company is the operator of the Balder FPU (production vessel) and the Ringhorne platform in the North Sea, as well as for the West Phoenix rig, which is drilling new wells on the Balder Future project.  
By coordinating and sharing helicopters and vacant seats, Vår Energi and Equinor seek to optimise the use of the jointly available transport capacity. Eivind Espe, the Operations Support Manager at Vår Energi explains: 
"Safe and efficient transport of personnel to and from the offshore installations is one of the key logistic operations associated with oil and gas production on the Norwegian shelf. Based on the success in north, it was natural to look at expanding our collaboration – a win-win-situation for both operators".  
Espe informs that Vår Energi is exploring opportunities to establish similar collaborations within other logistics operations, such as supply services where vessel-sharing. 
About Vår Energi
Vår Energi is a leading independent upstream oil and gas company on the Norwegian continental shelf (NCS). We are committed to deliver a better future through responsible growth based on over 50 years of NCS operations, a robust and diversified asset portfolio with ongoing development projects, and a strong exploration track record. Our ambition is to be the safest operator on the NCS, the partner of choice, an ESG leader and a net-zero producer (Scope 1 and 2) by 2030. 
Vår Energi has more than 900 employees and equity stakes in 35 fields producing net 247,000 boe per day in the third quarter of 2021. Headquartered outside Stavanger, Norway, we are owned by the energy company Eni (69.85%) and the energy-focused private equity investor HitecVision (30.15%). To learn more, please visit varenergi.no. 
For more information, please contact: 
Andreas Wulff, Communication Manager 
Mobile: +47 926 16 759 
Email: andreas.wulff@varenergi.no 
 This announcement may include projections and other "forward-looking" statements within the meaning of applicable securities laws. Any such projections or statements reflect the current views of Vår Energi AS ("Var Energi") about further events and financial performance. No assurances can be given that such events or performance will occur as projected and actual results may differ materially from these projections. Var Energi undertakes no obligation to publicly release any revisions to these forward-looking statements to reflect events or circumstances after the date of this announcement.