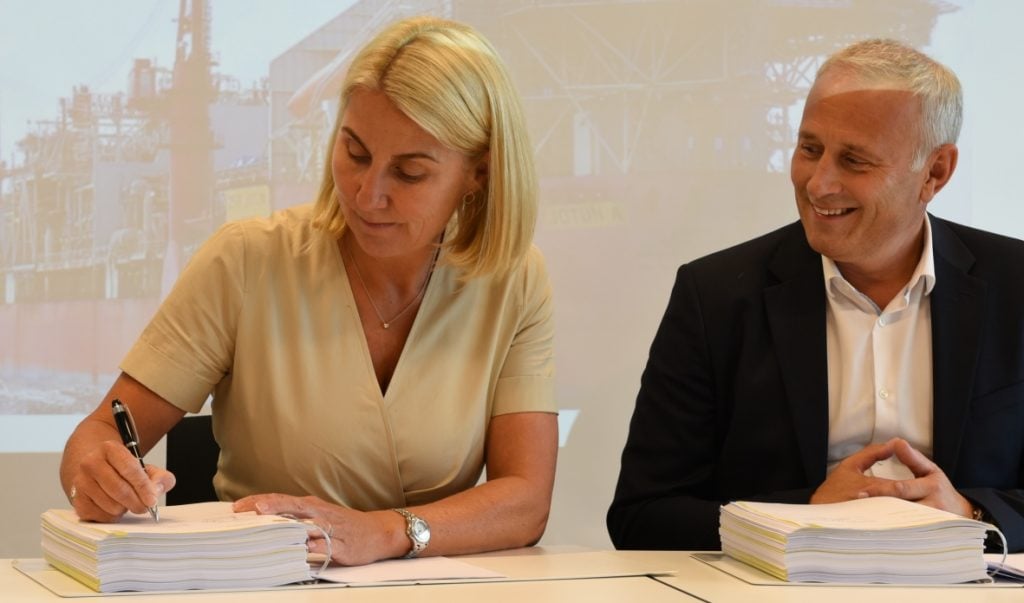 15 August 2019
Major contract award to Rosenberg Worley AS
Vår Energi AS has awarded an EPCI (Engineering, Procurement, Construction and Installation) contract to Rosenberg Worley AS in Stavanger, Norway. The contract encompasses the lifetime extension of the Jotun floating production storage and offloading vessel (FPSO), enabling oil and gas production from the Balder field until 2045.  A large proportion of the contract value is expected to be provided by local providers and will benefit the supplier industry in the region.
"We are very happy to award this important contract to Rosenberg Worley AS, providing local job opportunities in a highly competitive and competent oil and gas service environment. Extending the life of the Jotun FPSO towards 2045 in the Balder Future Project is key in enabling Vår Energi's future growth plan, ensuring Norway's first offshore license, PL 001, a life span of 80 years,'' says Kristin Kragseth, CEO in Vår Energi.
Rosenberg Worley will perform engineering, procurement, construction, installation and commissioning as part of the FPSO life extension program and started planning activities in May this year. The planning phase is in coordination with the ongoing FEED work being performed by Aker Solutions which started in December 2018. Aker Solutions will continue to provide engineering services during the execution phase.
The plan is to transport the Jotun FPSO to the Rosenberg Worley yard in Stavanger in spring 2020 for an estimated 15 month long yard-stay. When the life time extension scope of work is completed, the FPSO will be moved offshore for installation at the Balder Field.
Jan Narvestad, Managing Director at Rosenberg, is very pleased with the Jotun A project award and the trust that Vår Energi is showing Rosenberg.
"We take this as recognition of our capability to execute major projects, which is a result of our systematic efforts during recent years to build competence and capacity. This contract is very important and will secure high activity at Rosenberg the next few years. The project will require a workforce of more than 1500 at peak, involving both engineering and construction resources", says Narvestad.
The redevelopment of the Vår Energi-operated North Sea fields Balder and Ringhorne entails other major project activities such as extending the life of the Balder FPSO to 2030; drilling of 15 new production wells in the Balder field area and 11 new production wells in the Ringhorne field area. These activities will take place while ordinary production continues at the Balder and Ringhorne fields.
Vår Energi AS has reserves and resources of more than 1 250 million barrels of oil equivalent (Mboe), targeting development of about 500 Mboe during the next five year period. Continued development of proven and additional mapped resources in the Balder and Ringhorne fields are key components of this growth plan. In addition, there is potential to further increase the reserves in the area through an exploration program that is planned to start in 2020.
Contact:
Andreas Wulff, communications and public relations manager in Vår Energi
Mobile: +47 926 16 759
Email: andreas.wulff@varenergi.no