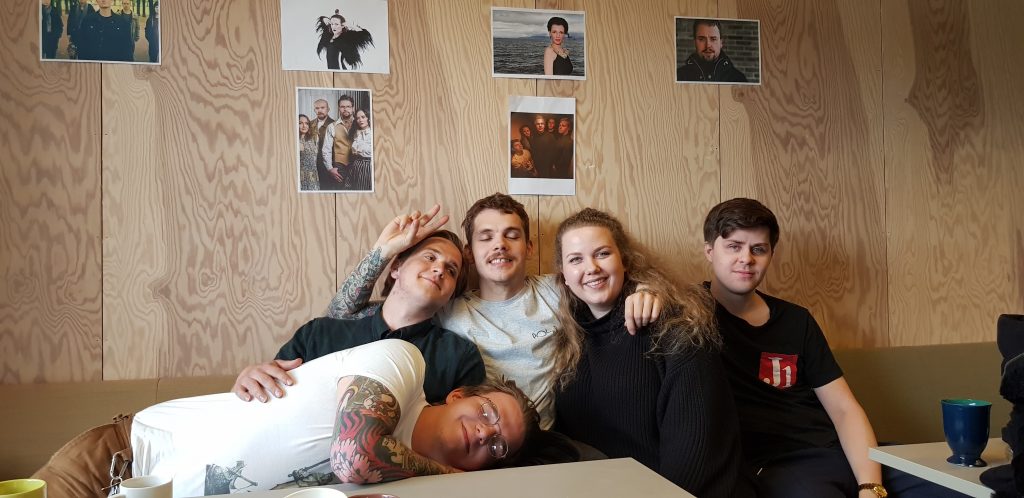 5 June 2019
Doom-metal band wins this year's Arctic Talent
The Tromsø based band Heave Blood and Die has been named this year's Arctic Talent. The prize is North Norway's largest music award and is granted annually by Vår Energi in collaboration with the Varanger Festival.
Heave Blood and Die is described as the most exciting rock and metal band since Kvelertak took the world by storm a few years ago. With a striking live show newspapers have given their performance top reviews. The Arctic Talent jury believes that the band will reach far beyond Norway's borders.
A blend of youthful vitality, high artistic quality and intense stage shows, Heave Blood and Die is also being noticed on international scene. The band was recently described by the Roskilde festival as one of Norway's most exciting bands, and will play at Roskilde – one of Europe's largest music scenes – this summer.
"Norwegian metal rock has made great success internationally for a number of years, so it is very exciting to see that a new, North Norwegian band is about to break through within this genre," says festival manager at Varanger Festival, Robert Lundgren.
Heave Blood and Die was established in Tromsø in 2014 and consists of Karl Perdersen (bass and vocals), Kenneth Mortensen (drums), Jonas Helgesen Kuivalainen (guitar) Mads Ystmark (guitar and vocals) and Marie Sofie Mikkelsen (synth).
"The band has, with 2 record releases, attracted national attention and is now facing and an international breakthrough. We look forward to be following the band's development in the future, and hope that this award will provide the extra support to succeed internationally ", says Andreas Wulff, communications manager at Vår Energi.
Arctic Talent was established in 2014 to help promote artists from the north, with particular potential for artistic and commercial breakthroughs. The award price is NOK 400 000 and will be used to introduce the band to new markets.
"Since its establishment, Arctic Talent has been awarded to artists and bands rooted in a number of musical genres, from classical opera, via pop and americana to the Sami music tradition. It is exciting to see that the jury is able to capture new genres, says Wulff. It contributes to a musical diversity on the North Norwegian music scene, he says.
The jury consists of:
Robert Lundgren, festival manager Varangerfestivalen
Brynjar Rasmussen, head of Scene Finnmark
Kirsti Lervoll, former festival director Riddu Riddu
Fredrik Forsman, head of Tvibit Tromsø
Einar Idsøe Eidsvåg, Music Norway
Andreas Wullf, communications manager, Vår Energi AS