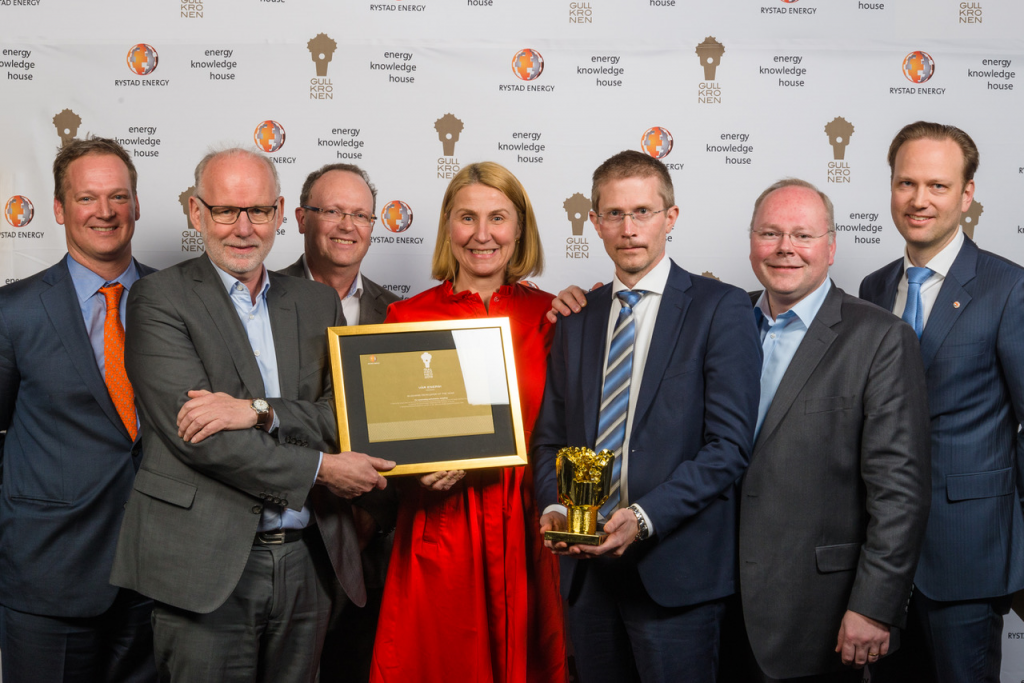 7 February 2019
Business developer of the year awarded to Vår Energi
Rystad Energy has through its annual event awarded Vår Energi AS the Golden Crown as business developer of the year 2019.
The annual event took place on 6 February in Oslo. Vår Energi was nominated in the E&P category, along with acknowledged and professional peers such as Aker BP, Neptune Energy and OKEA.
According to the jury, the winner has shown remarkable portfolio management, building a complementary asset portfolio that increases reserves, provides a stable base of producing assets to fund developments and generates dividends going forward. In a few years, this company may well be the perfect IPO candidate. With strong growth ambitions and a diverse portfolio, the winner will be a significant player on the NCS going forward.
"We are happy to be acknowledged for the position we have established. Through the merger of Point Resources and Eni Norge into Vår Energi, we have built a technically and financially strong, safe and profitable E&P company. As a representative of a new generation operating companies offshore Norway, Vår Energi will continue to focus on growth and value creation", says Kristin F. Kragseth, CEO in Vår Energi.
Since the merger, Vår Energi has taken a significant step towards becoming the largest independent E&P company across the Norwegian continental shelf (NCS); operating the Goliat field in the Barents Sea, Marulk field in the Norwegian Sea, Balder and Ringhorne fields in the North Sea. Vår Energi's average production in 2018 was 170,000 barrels of oil equivalent from in total 17 producing fields on the NCS.
"Vår Energi has a robust capital base with backing from its shareholders; global energy company Eni and O&G private equity investor HitecVision. Our owners have created a robust platform, and the plan is to invest more than 65 billion NOK in more than ten field development projects on the NCS during the next five-year period", Kragseth adds.
About Vår Energi AS
Vår Energi AS is a new leading, independent E&P company on the Norwegian continental shelf (NCS) and the result of the merger of Point Resources AS and Eni Norge AS in late 2018. Vår Energi is jointly owned by Italy based energy company Eni (69.6 percent) and Norway based leading private equity investor HitecVision (30.4 percent).
More information on www.varenergi.no