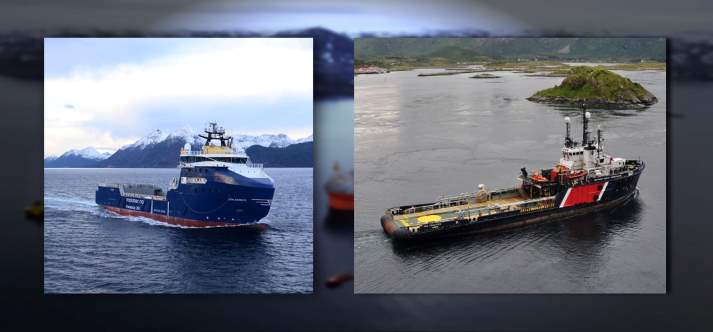 25 August 2015
Sharing emergency response resources in northern Norway
The Norwegian Coastal Administration (NCA) and Eni Norge have entered into a mutual
assistance agreement for support vessels on the Goliat field. The agreement is the first of
its type in Norway.
Mutual assistance
The agreement entails the provision of mutual
assistance by vessels in connection with the NCA's emergency towing arrangements and Eni
Norge's activities at the Goliat field.
"The contingency measures at the Goliat field are especially adapted to the area in which we
operate. It represents a strengthening of the capacity both within oil spill protection,
towing and search and rescue operations off the coast West Finnmark," says Andreas Wulff,
Eni Norge's External Communication Manager.
Improved
protection
The agreement with the NCA will provide better oil spill
protection in a sensitive Arctic region, as well as making available to both parties access
to optimal towing capability.
"Our goal is mutual utilisation of vessel capacity permanently stationed in the area in the
event of unforeseen incidents and suspensions in operations. The agreement shall ensure a
consolidation of operations for which the NCA and Eni Norge have primary responsibility, and
is not a substitute for the vessels necessary to maintain operations and emergency response
capacity," says Ly.
Key facts about the agreement:
The Norwegian Coastal Administration and Eni Norge have entered into a mutual assistance
agreement regarding emergency vessels along the northern Norwegian coast.
The Eni Norge operated Goliat field is the first oil field to come on stream in the
Barents Sea.
  Assistance provided to Eni by the NCA is restricted geographically to the Goliat
field and adjacent areas along the West Finnmark coast.
Assistance provided by Eni to the NCA is restricted to the coastal waters between the
Hekkingen lighthouse in the south-west and the Fruholmen lighthouse in the north-east.
This corresponds to Zone 2 of the national emergency towing plan for northern Norway.
The agreement applies to the NCA's towing vessels which carry out emergency towing
operations in the region.
The two emergency support vessels Esvagt Aurora and Stril Barents, as well as the supply
vessels Njord Viking and Troms Pollux will be made available by Eni Norge, under current
terms and conditions.