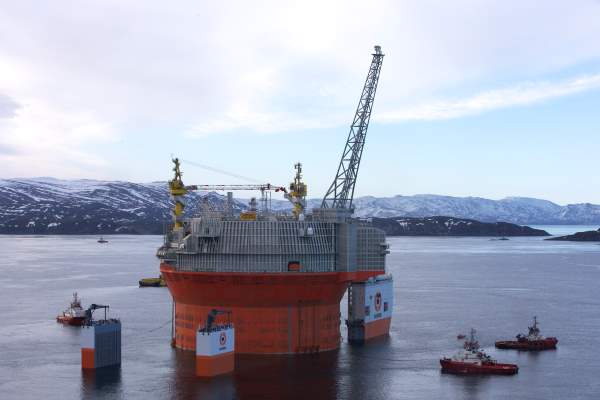 23 April 2015
Successful float off for the Goliat platform
The Goliat FPSO was successfully floated off the heavy vessel transport, Dockwise Vanguard, in the fjord outside Hammerfest early this morning.
The operation went according to plan, and the platform will now be temporarily moored in Ersvika, six kilometres south of Hammerfest.
Once in Ersvika, work to complete preparations for tow out to the Goliat field will begin. This will include inspections, tests and checks of all systems and equipment. 
  
Tow out to the field in the Barents Sea is expected to happen early May. The field is expected to come on stream by mid-year.
Contact person:
Andreas Wulff, Director of External Communications, Eni Norge, Tel. +47 926 16 759
Film and photo:
See online film here:
https://vimeo.com/newson/review/125771362/c7e05efda2
See and load down  photos here:
http://newson.no/web/goliat/arrival/
Please credit: Eni Norge/News on Request