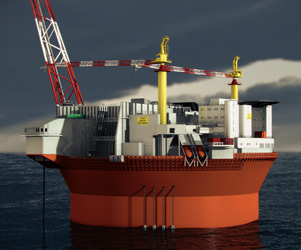 21 January 2014
Oss-nor Hammerfest AS wins Goliat maintenance contract
Eni Norge is signing a long-term contract with the base workshop firm Oss-nor Hammerfest AS. The contract confers on Oss-nor full responsibility for the maintenance and modification of valves linked to operation of the Goliat field.
This applies to both the commissioning and operations phases, and includes work on the valves carried out offshore. It also involves service and maintenance of the valves which has to be carried out in workshops onshore. The contract also contains an option for other related work.
Spin-off targets
The contract clearly specifies that the supplier shall establish its own workshop facilities in Hammerfest. As is always the case, Eni Norge encourages the use of local skills and expertise, and this includes the use of subcontractors.
"Oss-nor is a competitive and skilled supplier which has provided services to the oil and gas industry for more than 30 years", says Andreas Wulff, Eni Norge's Director of external communications and public relations.
"The company's presence in Hammerfest is a major advantage, because our aim is that the Goliat project shall create spin-offs both locally and in the region as a whole. The Oss-nor contract is thus entirely in line with our contract award strategy – in which jobs and business development in northern Norway are key elements", says Wulff.
Initially, the contract will run for three years, but it contains an option for two two-year extensions, making seven years in total.
Early bird
The Goliat field was discovered in 2000, and will be the first oil field to come on stream in the Norwegian sector of the Barents Sea. It contains approximately 174 million barrels of oil and 8 billion standard cubic metres of gas. The field is being developed using a floating production, storage and offloading platform (FPSO), specially tailored to conditions in the Barents Sea. The operation of a floating platform and its process facility requires in excess of 9000 valves.
Oss-nor's base workshop in Hammerfest currently employs nine people. In order to promote local skills development, Oss-nor also employs six trainees from Hammerfest at its parent company in Kristiansund, working towards their trainee certificates in mechanics.
"We are all set for this exciting assignment", says Kristine Jørstad Bock, Managing Director at Oss-nor Hammerfest AS. "Based on activity levels we are aware of today, we will be increasing our workforce to about 18 employees during 2014. It is important to us to recruit local expertise and be an active wealth creator contributing towards growth in the Hammerfest region in line with activity taking place in the Barents Sea", she says.
Oss-nor was the first company to offer valve maintenance in the Norwegian Sea, and is now also the early bird in the Barents Sea.   Eni Norge is operator of the Goliat field with a 65 per cent stake. Statoil is a partner with 35 per cent. Eni Norge is part of Eni, an Italian integrated energy company with about 78,000 employees in more than 90 countries.
Contacts:
Andreas Wulff, Director of external communications and public relations, Eni Norge, tel. mob. +47 926 16 759
Kristine Jørstad Bock, Man. Dir., Oss-nor Hammerfest AS, tel. mob. +47 908 12 563
.
Arnt A. Wærnes, Board Chair at Oss-nor as, tel. mob. +47 957 03 206
.